Time to Read: 16 minutes
Automate Your Recruitment Process Summary:
16 vetted technologies to help automate your recruitment process.
We've taken all the demos. Here is your comprehensive guide to their benefits and capabilities.
How to set your team up for success with an optimized technology stack.
If you want to know how to automate your recruitment process, you've come to the right place!
When you start thinking about all the technology available to support your recruitment automation strategy, it's easy to get overwhelmed. Before you know it, you have inquired so many software demos that you have asked your receptionist to block all sales calls. To begin to automate your recruitment process, you will want to be comfortable with vetting software. This means having an understanding of budget, terms and agreements, integrations, timelines, testing, training, staff adoption, usage reporting, analytics, and negotiating.
It's all too easy to land an Enterprise piece of recruitment marketing software and not be equipped to utilize all the bells and whistles you are paying for. This mistake can affect your ability to deliver an optimal candidate experience and ultimately deflect job seekers versus attracting and engaging qualified applicants. Understanding the technology that is available to automate your recruitment process will empower you to create a tech stack that delivers dividends to both your staff and your end user.
16 Technologies to Automate Your Recruitment Process:
Job Board
Quick Apply
Parser
Applicant Tracking System
Chat Bots
Programmatic Advertising
Search Engine Optimized Job Postings
Social Sharing
Marketing Automation
SMS
Relational Matching
Semantic Search
Digital Onboarding
Analytics
Survey and Net Promoter Scoring
Video Training
The decisions you make in your recruitment technology selections can make a difference between creating a pinwheel of a candidate pipeline that flows 24/7 and a large investment that results in a breakdown in process that falters the production team.
Speak with a creative & marketing expert to help you hire quickly.
Curating your tech stack doesn't have to be a stressful, draining experience. It can actually be a lot of fun—especially if you're making smart decisions that focus on the candidate experience.
Automated Recruitment Process Capabilities:
First, we must acknowledge the emotion involved when one is changing jobs. For this reason, the recruitment process must balance the human touch with the benefits of technology. In this article, we are focused on the suite of technology needed to execute your automation strategy. The technology used to carry out your recruitment needs must be capable of the following for a five-star candidate experience:
Attract active and passive job seekers to your brand.
Engage qualified professionals to convert using your quick apply experience.
Submit matched candidates to open job orders.
Onboard electronically with a finger signature from a mobile device.
Nurture candidates with frequent and useful communications.
Measure candidate and client satisfaction through metrics, surveys, and referral capture.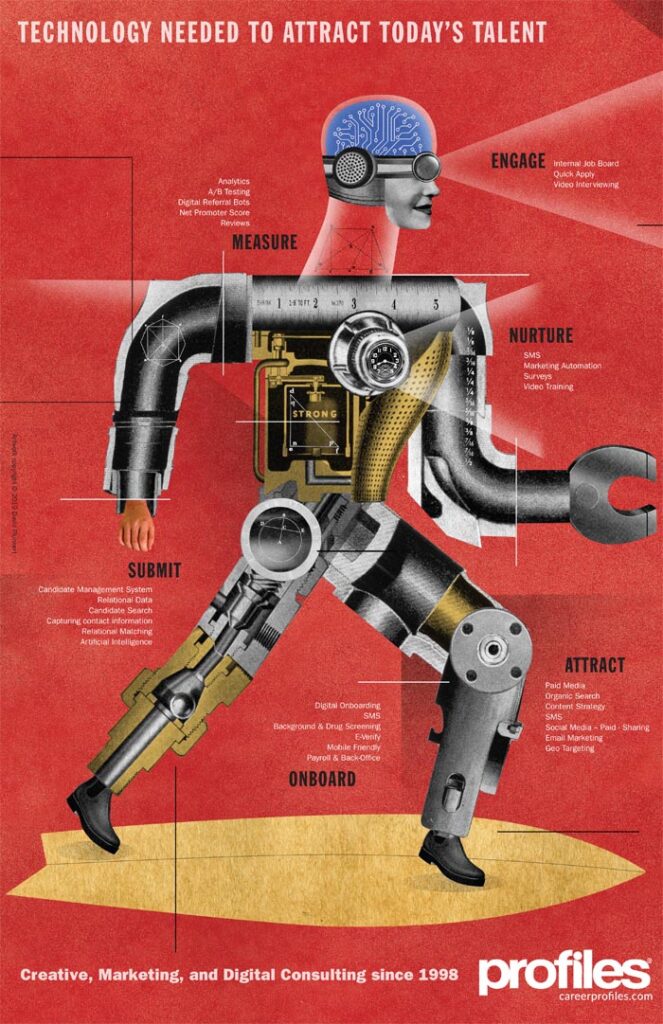 If you are ready to morph your existing recruitment process into a pipeline machine, here are the recruitment tools to consider!
1. Job Board
Your job board will host all open job listings and allow you to publish these listings to your website to be viewed by job seekers. An optimized job board will allow the job seeker to search by job title, location, and employment type. The URL of your job board should be a page within your website and not a subdomain with results from the job search should render in less than three seconds.
Optimized URL:  careerprofiles.com/search-jobs
Not Optimized Subdomain:  careerportal.careerprofiles.com/search-jobs
2. Quick Apply
A mobile-friendly, one-click apply would qualify as a quick apply. Utilizing auto-fill fields from logging into one's LinkedIn or Indeed account is a well-received applicant experience. Should these short cuts not be present in your application process, keep the form fields limited to pertinent information. Five to seven required form fields with the ability to upload a resume from common cloud storage hosts, such as Google Drive or DropBox is recommended.
3. Parser
A parser takes an applicant's contact information and resume and saves it to your applicant tracking system (ATS) against their candidate profile. When selecting a parser, it may be a built-in feature of your application software or ATS, however, not all parsing software is created equal. It may be worth exploring cutting edge parsing tools, such as Daxtra, which will be an additional expense but worth every penny. Daxtra's parser utilizes artificial intelligence to catalog skill sets from the resume in order to support a semantic search against your ATS. In other words, recruiters of all levels of experience will be able to search common skills, and the results will know to include skills that go by synonymous names or also-known-as titles. Richer search results include skills, years experience, industry, past employer, education – all while sticking to your quick apply application form. Correct, these are not long-form fields in the application but scraped from the resume. Daxtra also has an add-on feature called Magnet that is a Chrome plugin that will capture and parse contact information from web pages.
4. Applicant Tracking System
This is a no brainer, an ATS is required to store and search your applicant contact records. Startups may begin manually organizing within a Google Sheet and scale into something that ties into billing and back-office such as a Bullhorn, JobVite, SmartRecruiters, or iCIMS. Vet not just the user experience and interface but interview the company and their investment in developments to ensure the platform is always growing with enhancements and a support team you can contact long after launch. Much of your recruitment automation tools will tie into your ATS; so will the ATS you select support that wishlist of integrations? A database administrator is often on staff to ensure your ATS is a well-oiled machine.
Need to Hire a Database Administrator? Receive Qualified Applicants in Two Days.
5. Chatbots
Making their debut across the staffing industry, this artificial intelligence automates screen questions that a human once had to do. If the applicant answers the chat questions correctly, they can be deemed a qualified and readily available candidate and routed to a recruiter. Commonly perceived as a virtual assistant, this chatbot looks like a small pop-up window on your job description landing page in the form of an instant message and can also be seen via text message, email, Facebook, and Slack. Screening questions can be tailored in support of each job type. Should the applicant not pass the screening questions they would be directed to search other jobs or review resources such as a defined blog post or infographic. Chatbots will give time back into your recruitment teams and keep your database bloat-free. While this feature is still new to market, two of three job seekers share they are comfortable engaging with the bot. Cut down on administrative, time-consuming tasks and free your recruiters to make faster fills.
6. Programmatic Advertising
Programmatic advertising is the automatic buying and selling of online advertising. Attract both active and passive applicants through paid media. Identify and target a hyper segmented audience to deliver ad campaigns and lead them to an optimized application experience. Managed by your digital marketing team, the capabilities of programmatic are expansive in how you can reach your audience across mobile, desktop, tablet, audio, tv, and digital billboards. Capture the qualified applicant faster than attending a networking event and only pay when your ad is delivered to the right person. In 2019 eMarketer.com reports 84% of US digital display ad spend went towards programmatic advertising. In other words, if your competition is optimizing their performance based on geography, demographics, interests, behaviors, time of day, device, etc. they are perfecting the recipe of who converts for each job type and will have an edge to submit talent in hours while you may take days or weeks.
7. Search Engine Optimized Job Postings
SEO has become common vernacular but, how it is applied to your application process and candidate experience? A well-optimized job detail page can secure real estate on the first page of search engines such as Google, Google for Jobs, Bing, Indeed, LinkedIn, Facebook, etc. Applying the principals of on-page optimization to each job description can save dollars in job boards and ad spend. Identifying primary and secondary keyphrases is where to begin. Search engines look at your URL, page title, header tags, the placement, frequency, and use of the keyphrase, the length of time it takes for the page to load, age of the URL, etc. Poor formatting, misspellings, and run-on sentences are unacceptable. The checklist is long and technical. Even if your content management system was able to template the approach you are still at the mercy of the staff member who is writing and entering the job description. This is a great initiative for your Digital Marketing team to drive.
8. Social Sharing
Social sharing of your job listings and content should go beyond your company social suite and span across all employees and their social networks. To achieve this tools may already be baked into your ATS. If not, you can integrate social sharing features into your ATS using BroadBean. You also want each job detail page to have social share buttons embedded on your website. To achieve this a common plugin is ShareThis. Amplify your reach and cast a wide net across the network of your entire organization. Encourage employees to create social media accounts across Facebook, Twitter, and Instagram that will be used for professional purposes.
9. Marketing Automation
Marketing automation checks a lot of boxes in terms of attracting, engaging, nurturing, and measuring your talent experience. Platforms have entered the staffing industry making automation affordable and easy to execute a content strategy. Thanks to platforms like SENSE, Herefish, and SalesFusion, they have mapped out common workflows of the candidate journey which integrates with popular applicant tracking systems. Vet each to identify which satisfies your requirements and fits within your price point.
10. SMS
Have you received a text from a recruiter? How did you respond? Text recruiting is great for instant response rates. In the past 90 days, we are reporting a 42% response to our text messages within minutes. Texting is great to deliver job links, surveys, request referrals, and send birthday wishes. The good platforms separate themselves by offering two-way communication where each recruiter is assigned a unique phone number that they can manage as their own.
11. Relational Matching
If your ATS does not have this feature baked in, you can seek outside solutions from brands like Daxtra. Relational matching offers a force ranked list of suggested talent matches based on cross referencing the job description to resumes in your database. Before formulating a search string, with one click of a button you have a suggested list of matches to start from.
12. Semantic Search
Equip your recruiters from entry-level to senior with the power of semantic search. Speed up the process of searching the database and uncover candidate matches you otherwise would not have. Semantic search either built into your ATS or a third party software that lays over top of your candidate database will query not in a broad or exact match of your keyword but go one layer deeper to determine the intent and contextual meaning of the search key phrase. In other words, synonyms or also-known-as results. This is a great help when searching ambiguous job titles such as "online marketing manager" – semantic search results may render results that include "digital marketing," "social media marketing," "marketing automation," "email marketing," organic search," "paid search," "programmatic advertising," — you get where this is going. Not to be overwhelmed with this expansive reach of a search, you can utilize an exclusion feature or filter results based on your needs.
13. Digital Onboarding
"Congrats, you got the job!" – an automated email and/or text message that is triggered upon placement. Reduce the administrative duties from your account team and operations team with digital onboarding. These platforms have come as far as completing the entire experience from one's cell phone. With the ability to take photos of ID's and passports from your phone and signing with a fingertip. Rest assured, it passes all e-verify qualifications and security measures while capturing I-9's, tax forms, NDA's, paycheck distributions, and any custom forms you would like to upload. Built-in reminders will deploy as the required due date approaches. Candidate feedback on this 100%  paperless onboarding approach is two thumbs up and dramatically increases the rating they provide when reviewing their overall candidate experience.
14. Analytics
The mother load. Let's start with the shared mindset that no program, software, or marketing campaign that costs you time or money should ever be launched without the ability to track its performance. Document your existing KPI's and their performance before implementing a new solution and that becomes your baseline or benchmark to beat. Continue to raise the bar as your analytics guides you on any A/B testing or workflows – sounds like things are getting pretty optimal!
15. Surveying and Net Promoter Score
Surveying is little effort with high impact rewards. Give your candidates and placements a share of voice for them to be heard, they will appreciate the podium. Automate your survey deployment after each milestone of the candidate journey. Responses should be reviewed in real-time and any negative feedback should be addressed ASAP, while positive feedback should be encouraged to capture a public review which will support those five-star ratings which benefit your employer brand management. Take the time to analyze the survey results into common themes, which can drive a quarterly business initiative.
Net Promoter Score is a type of survey that is the king of all survey questions, "From a scale of 0 to 10. How likely are you to rate (your company) to a friend or colleague?" This NPS question is often built into your marketing automation platform, ATS, or CRM. If so, research how to make this question automated to deploy quarterly to active clients and employees. A 90-day window is all you need to understand how your business is performing in the moment. A lot of dynamics and culture shifts can change in a year, you want to evaluate the now. Engage leadership and HR on your quarterly NPS results. Should you find that your score is lower than expected, perhaps an incentive program is built around lifting the overall score.
16. Video Training
Online tutorial software provides a catalog of both hard and soft skill training topics. Video training can be automated to assign a prescribed list of videos which are often followed by quizzes. Offering training and testing will aid the upsell of candidates, support the advancement and promotions of candidates, and assist in your employer brand for investing in your employee knowledge base. Products include Lynda.com, PluralSight, Udemy, and General Assembly.
Learn More About How to Automate Your Recruitment Process
This post covered a lot of information. There is even more to learn. If you feel bogged down due to limited resources, technical or budgetary constraints, don't worry.  You don't have to do this all on your own. With the help of Profiles, leave the recruitment automation to us.
Profiles offers recruitment marketing and staffing services for your creative, marketing, and technology hiring needs. With our subject matter expertise, your open positions are backed with a recruitment marketing automation program that will provide qualified candidates quickly. All you have to do is confirm our selections.