Time to read: 3 min
Employee Onboarding Best Practices Summary:
Preparation is key in setting your new hire up for success in the long-run.
Onboarding is comprised of three main pillars, whether you are in the office or remote.
This is an updated article originally posted on 12/17/2015.
Onboarding new talent is always exciting. New hires have the potential to bring in new ideas and concepts into the company. That is all well and good, as long as the new hire stays and grows with the company far past the grace period. A stellar employee onboarding plan has the potential to reduce retention by 82%. With that, new hires experiencing a negative onboarding experience are 2x more likely to head back into a job search.
What can you do to boost retention? Following proper employee onboarding, best practices can help support a healthy employee retention rate.
What is Employee Onboarding?
Onboarding, when done correctly, is a process to prepare and welcome new hires effectively in a non-overwhelming fashion, getting them acclimated to their new environment and giving them the resources to learn and grow in their new positions. While retention rates can vary from industry to industry, the average turnover rate across all industries is 17.8 percent. Therefore, the goal is to aim for an 80-90 percent retention rate.
While recruiting is arguably the most important part of filling an open position, onboarding stands at a close second. Employee onboarding processes are set to introduce the company's goals and missions and how the new hire will contribute. With this understanding of onboarding, companies can expect to see increased employee engagement within their work environment and production.
Are you onboarding your new top talent to the best of your ability? Read on for employee onboarding best practices, tips, and advice.
Profiles managed services can improve and simplify your onboarding and back-office processes. From creative staffing to reporting and metrics tracking, let Profiles help your organization run more efficiently. Contact us online today or visit our managed services page for more information.
"A solid onboarding process can lead to an 18% greater achievement in performance goals."
Onboarding Agenda
Once your candidate accepts the offer, your employee onboarding process begins. Every great manager starts with an agenda and by creating a simple checklist, you, your team, your new hire, and all other peers that will collaborate with this role will stay on track to achieve an outstanding first week. Starting a new position can be nerve-wracking. Mapping out a schedule for your new hire's first week will alleviate any stresses, establish expectations, and set the new hire up for success.
Common agenda/checklist items:
Give an office tour: Tour the new hire through the office and introduce to staff members. About 70 percent of employees believe that having work friends is crucial to happy work life. Additionally, making the new hire familiar with where all materials, collateral, and supplies are will create a more comfortable environment right off the bat.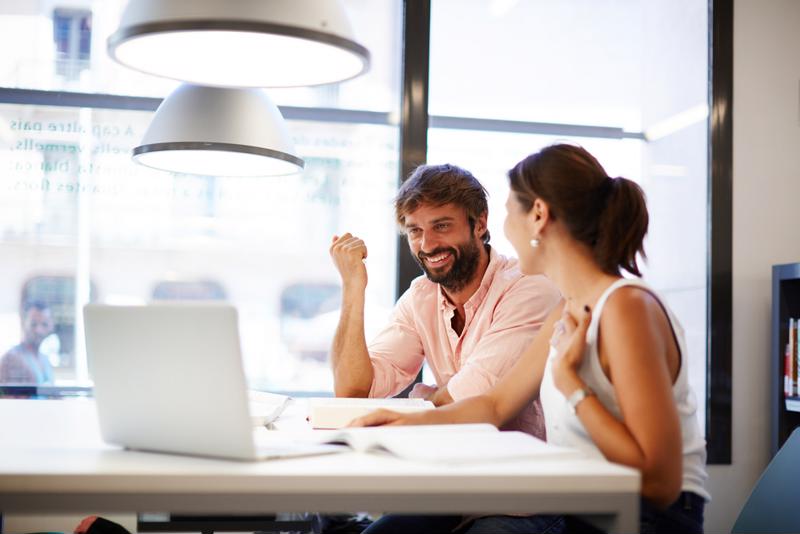 Setup the workspace: Have your new hire dive right into work. Walkthrough software and programs used and current projects and goals to bring the new hire up to speed. For a warm welcome, accompany their already programmed computer with company shwag, such as mugs, pens, journals, and/or t-shirts.
Plan a lunch: Whether it is a lunch between you and your new hire or an all-staff lunch, treat the employee to some good eats and team bonding to kick-off their time at your company.
Shadow Sessions: Work with team members to schedule shadowing sessions for the new hire to work with and understand different roles within the business.
Human Resources Meeting: Have your new hire sit down with HR for a run-down of their benefits and employee handbook. This will set expectations of office decorum and morale.
Training and Development Onboarding Best Practices
The onboarding period is not only a time for first impressions but sets the pace of expectation. To ensure success within the role, during the first weeks your new hire should be going through training of all appropriate procedures and programs. A solid onboarding and training process can lead to an 18 percent greater achievement. Onboarding is an ongoing process that lasts far beyond the first week on the job. Generally, it takes about 60 to 90 days for a new hire to feel comfortable and understand the job nuances. Often times a 90 day grace period is in place for this reason. It ensures the role is a good fit for both the new hire and the employer.
Provide Mentoring Resources
All hiring managers should assign a mentor to each new employee to help ease their transition into the company. Even if the mentor is not part of the same department it is definitely nice for a new employee to talk to an experienced worker about any initial issues or questions he or she might have. Aim to match this pair based on their interests and personality to allow for a seamless fit.
You should also try to find mentors who are approachable, knowledgeable, sociable, and happy to help new employees, as they will be offering them advice, giving office tours and introducing new employees to colleagues within their department and the company. If a new employee does not have that person or simply does not feel comfortable bringing up those problems, it could hurt their performance and possibly cause them to resent their job.
Remote Onboarding
There is an art to remote onboarding. However, the best practices of your in-person onboarding plan translate well for remote onboarding. While the process may stay similar, the mindset around company culture comes to the forefront. Promoting company culture early and often is vital to remote onboarding. Actions to promote company culture include a formal email announcement of the new hire, setting expectations for video, and being mindful of offering support. Read more about how your company's culture plays a role in remote onboarding.
Employee Onboarding Support with Profiles
Profiles does more than procuring top talent – we help employers build teams, simply process, and grow their company. To learn how our staffing services can not only connect you with top talent but also develop a smooth onboarding process, contact us online today.