One of the most essential steps for hiring managers to undertake, before a candidate search, is to construct an engaging job description. The job description is the crux of any candidate search and used not only to share job details, but also to give candidates an understanding of your organization and how the role fits into the organization and impacts the business.
While crafting the job description may seem like a relatively straightforward task, producing a truly effective piece necessitates considerable effort. There are a number of ways to ensure that your next job description attracts only the very best and most qualified candidates. Check out the handy guide below.
To begin, let's start with the must haves:
1. Accurate and Optimized Job Title
A stellar job description obviously begins with the title. The name of the position should be memorable, but also concise, Career Attraction advised. Avoid something that is long or difficult to comprehend. A reader should be able to have a clear and accurate idea of what the position entails just by reading the title.
Additionally, the title should be relevant to the industry and be easily accessible within search engines and job boards. Ensure the job title is SEO-friendly by choosing a primary keyword as the main title, and a synonymous title as the secondary keyword. Using a SEO-friendly title will not only increase your visibility, but the chances of attracting the right candidates to the position.
2. Write A Brief Job Summary
Give the job context before moving onto a detailed list of expected responsibilities. Within the job summary is the best place to share the impact the candidate has the potential to make towards the business in the position. A truly concise introduction will consist of no more than three or four sentences, outlining the overall objectives of the open position within the wider organization.
Tap into your creativity and keep it interesting and personable. In the same way that recruiters get bored of unattractive resumes and cover letters, the same goes for candidates and job descriptions. This is an opportunity to convey some personality and give the reader a sense of your company culture.
"The idea is to tell a story – what does a day for this employee look like?"
3. Outline Job Responsibilities
Perhaps the most important component of the job description: job duties. The idea is to tell a story – what does a day in the life of this position look like? What does the job do to move the team forward and meet certain goals? Although detail is important, concision is also helpful. Convey as much information as you can in as few words possible, to ensure that your reader remains interested. Use bullet points to list all main responsibilities. Listing out the responsibilities will make it easier for the candidate to digest the role. Profiles strongly recommends 5-7 bullet points, outlining the main job duties
4. Job Requirements: Ditch the Soft Skills
Another essential part of a great job description is to list the job requirements in terms of experience, skills and educational qualifications. As with job responsibilities, keep this list especially short and to the point: 5-7 bullets, as well,  of the essentials. Instead, list solid examples of the kinds of requirements you will need your candidate to be able to do. Forget listing soft skills such as "a people person" and "effective communicator."
Excellent examples of potential requirements may include:
Proficiency in HTML.
Adobe CC, mainly InDesign, Illustrator, Photoshop.
Experience in copy-editing.
Strong understanding of SEO / SEM best practices.
Listing  specific skills and specific programs will better attract the right candidate. Note your "must-have's" and your "preferred" skills and programs with a notation – "experience in copy-editing, must have" or "Strong understanding of SEO / SEM best practices, preferred." Making strict stipulations can deter candidates. If a candidate has almost all the requirements, they want to know they can still apply to your awesome position.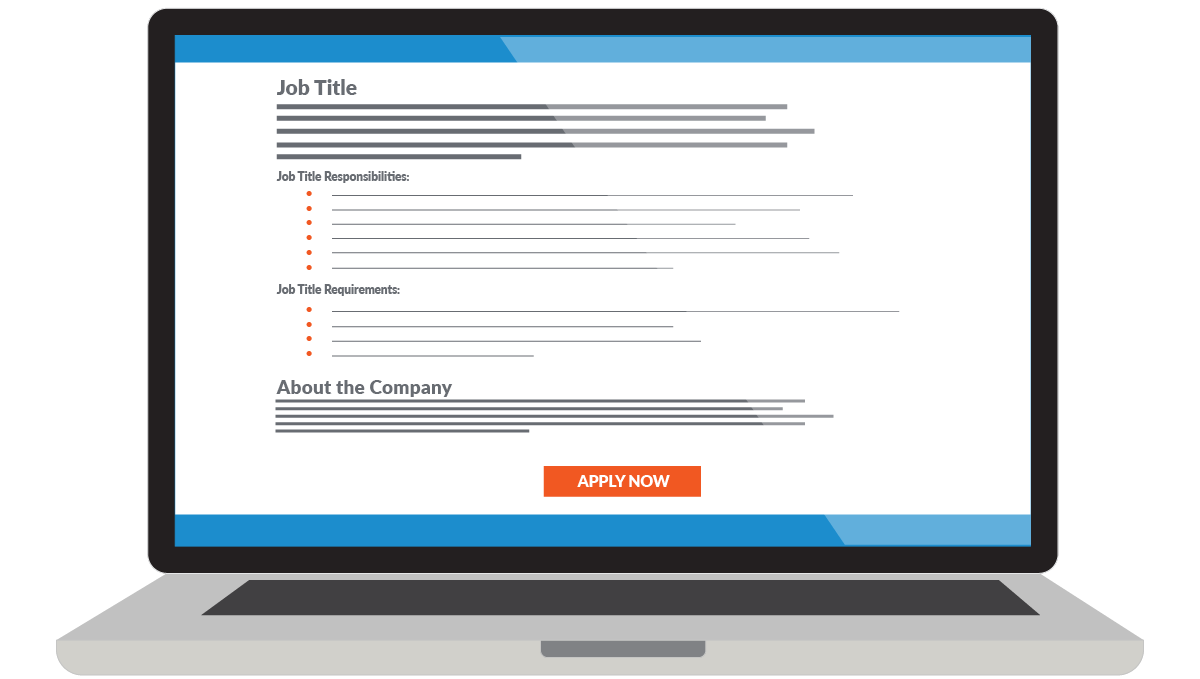 5. Sell Your Company
In the same way a resume is used to sell to recruiters and hiring managers, a job description is the time to sell your company to candidates. Get fun and creative – what do ideal candidates look like to you in terms of personality and a cultural fit? For example, write something to the effect of "fun and relaxed creative staffing firm where a sense of humor is encouraged." Use the end of your job description to add in a brief company summary and/or history. Put another way, the job description needn't be dry and direct. Seize the opportunity to be creative.
6. Watch Your Use of Language
Language can create some confusion. You may think nothing of your word choice, but certain words are often open to varying interpretations. For example, stating something to the effect of "occasional weekend work" could be misconstrued. The candidate may interpret that to mean once a quarter, while you may envision "occasional" as meaning once every two to three weeks.
Be clear in your word choice. Share all expectations of the position, and stay away from gender specific pronouns.
Contact Profiles
Finding yourself stuck with a job description and unsure of next steps? Contact Profiles. We will walk you through every step of the process, ensuring you are confident in your recruitment process. Have your job description handy? We'll help to find tune the description to attract the very best candidates to the position.