This post was originally published on April 29, 2014, and updated on March 7, 2019.
Hiring managers and HR professionals continue to feel the pressure as they try to find and place promising marketing and creative professionals within their companies. It's challenging enough to take on employees for traditional positions, and the risk is greater when it comes to new,  emerging, and rapidly growing fields. If that is not enough stress, businesses have a lot on the line in terms of finances when it comes to hiring new staff members. One poor hire can cost a company thousands of dollars in terms of lost time, money paid and resources spent. Here is the real cost of a bad hire:
Financial costs add up
There are numerous ways in which recruiters can rack up sizable bills by hiring the wrong candidate for a creative job. Consider the initial steps that hiring managers have to take when trying to fill an open position. Not so long ago,  applicants could easily find open positions and send in their resumes all on their own. Today, that is not the case, and recruiters have to invest ample time, energy and funds into advertising openings, connecting with people in their networks, and actively searching for prospects.
The expenses don't end there. Now that the recruiter's inbox is hopefully flooded with applications, the real spending begins. The Society for Human Resource Management's Talent Acquisition Benchmarking Report found that the average cost per hire was $4,425. If this seems high to you, consider the resources expended during the screening, interviewing and onboarding processes. For instance, if creative employment agencies decide to consider candidates across the country – or around the world, for that matter – then they may end up footing the bill for candidates to come into town for in-person interviews. Costs include travel and accommodations, neither of which are particularly cheap. Add to that the funds businesses invest in training, salaries, and benefits. From there, companies' costs continue to climb.
Although contract staffing agencies absorb these costs by recruiting and hiring the employees their clients need, these initial investments don't have a positive return if a client can't retain their staff members due to poor fit. Not to mention, there is a laundry list of other expenses that stem from bad hires parting ways with a business. There are various expenses tied to employee termination, starting with severance pay and Cobra administration costs. On top of that, companies run the risk of having a disgruntled former representative taking them to court, which will result in litigation fees at the very least.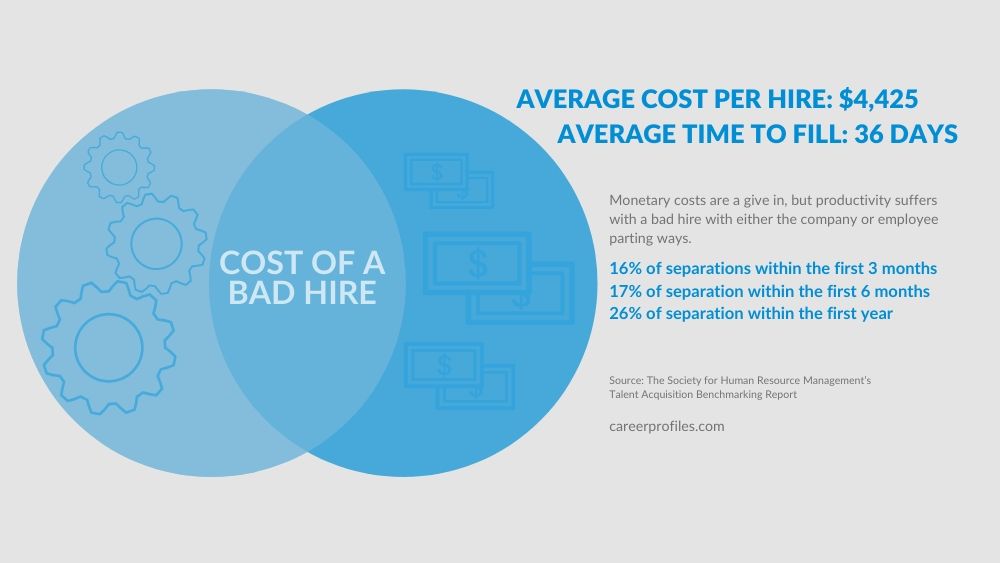 Hindered productivity
Hiring a poor fit for a creative job may take a toll on staff performance and office morale. If hires aren't able to mesh with company culture or can't be successful at their job, this has a direct impact on their colleagues. Employees who are left to pick up the slack of terminated employees aren't able to deliver on their own work as well. Projects are left undone and resources aren't used to their full capacity. Additionally, if it seems like people are coming and going frequently, there could be a sense of instability at the office, and staff members may not be able to bond.
"…whenever someone is terminated, there's a disruption among the other employees who begin to question what caused the termination and does it affect how their performance is evaluated, not to mention the increased workload on all the other employees who have to pick up the work of the employee who was let go," explained Jean Gamble, a Human Capital Strategist and Recruitment Specialist at Dice.
In the end, this could lead to poor performance and low productivity. This costs creative staffing agencies,  causing them to lose profits and preventing them from reaching their full potential.
Steer clear from the cost of a bad hire with Profiles
With Profiles, you can ensure the risks associated with hiring will not be a worry for you, thus, saving you money, and more importantly, time. Our business development managers are ready to learn everything about your open positions and your company so our recruiters can find you the absolute best-fit talent for your marketing and creative tech positions.