There is a science behind recruiting top creatives, copywriters included. How do your recruitment efforts stack up to our three copywriter recruiter secrets?
1. Examine Upcoming Goals Before Hiring
No business is beyond the need for dependable copywriting talent, but no two businesses use copywriters in the same way.
Before you recruit for open copywriting jobs, take stock of what your advertising, communications and marketing teams hope to accomplish in the near and long terms. With that list in hand, you'll know exactly the types of writing skills candidates ought to have.
Top copywriter recruiters recommend creating five lists: what you need by next week, what you need by next month, what you need by next quarter, what you need by next year and what you will need over the next three years. Projects might include the following:
Blog vs. vlog: Writing articles isn't the same as writing scripts. If you produce both, your ideal copywriters should have experience with both.
Fresh perspectives: How often do you want copywriters to brainstorm and execute new marketing campaigns? Once a week or once a season?
Postapalooza: The best social media posting schedules balance quantity and quality. Copywriters must compose concise, impactful text and leverage it with images, videos, links and hashtags, all while remaining on brand and on pace.
Extreme digital makeovers: Is it almost time for a redesign? Are you past due for an optimization overhaul? Then you need someone who knows his or her way around an SEO-friendly landing page.
Handy-dandy handbook: What's the best way to make sure your staff actually reads the employee handbook? Have your copywriters update it with fun, engaging copy.
Lastly, be sure to consult departments outside the marketing and creative technology bubble. You may find exciting copywriting projects within your company where you least expect them. If your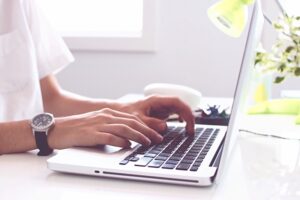 sales team has been striking out a lot, for example, then salespeople might perform better with a well-crafted script from your future copywriters.
2. Request Portfolios, But Always Test the Basics
When reading exceptional copy, it's difficult to tell where the writer ends and the editor begins. While a candidate's portfolio gives you an inkling of what he or she is capable of, but you'll still want to challenge seemingly qualified candidates with a short sample assignment.
Regardless of what that sample entails – blog post, press release, introduction to a white paper – what four foundations should an assessment put to the test?
Vocabulary: Words in great copy are simple but surprising. Text shouldn't reuse the same 10 verbs, contain a lot jargon or require a doctorate to understand.
Grammar: Whether they admit it or not, customers care about grammar. Misplaced apostrophes and misuse of your vs. you're in publicized copy can make your brand look like amateur hour.
Syntax: Nothing affects legibility and concision more than how well or how poorly writers arrange words in their sentences. Beware of front-loaded subjects and passive constructions.
Style: Are you writing to impress, inform or entertain? You need to know, and so must the copywriters you hire. Style also pertains to standardization. Does your business want to follow Associated Press Style (like journalists do), Chicago Manual of Style (like authors do) or MLA/APA (like researchers do)?
3. Recruit For More Than Just Writing
Putting fingers to a keyboard isn't a content creator's sole duty. Depending on the size of your business, your requirements for copywriting recruitment may extend off the page.
Recruit for skills: Search engine optimization, keyword strategy, HTML, graphic design – these are all elements of copywriting in the digital age. How important are they to your operations?
Recruit for sourcing: Consumers want to do business with brands they trust. If you expect your copywriters to uncover facts and figures that support their written material, then candidates ought to know how to properly attribute primary sources.
Recruit for passion: Nobody breaks into a business like copywriting without a love of literature, language or communication. Candidates brimming with enthusiasm for any of these things should definitely make your shortlist.
Profiles Copywriter Recruiters
Our highly trained copywriter recruiters can connect you with the storytellers who will craft the next chapter of your business. Contact Profiles to fill your creative copywriting job openings in a flash.