It is with a heavy heart to report the passing of one of our consultants out in the field. David Hill passed away on March 26th, 2020. David was a light to all those he crossed paths with.
David joined our client's team in November 2019 as a Segment Lead. Before joining the team as Segment Lead, David was a Digital Process Manager, responsible for managing the execution of email marketing and servicing campaigns. His co-workers touted him as warm, friendly as well as incredibly smart; a true joy to work with.
David's colleagues have rallied together to pay tribute and show support for David's family during this difficult time. Matt Giglio and Dana Caudell have organized fundraising efforts for a Visa gift card to gift David's family to alleviate some expenses. Additionally, teammates paid tribute through the arts to David with Alicia Logan creating a portrait of David and Gail Hubbard writing a poem for David and his family.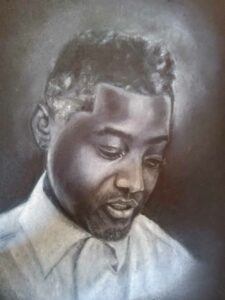 A Poem for David Hill by Gail Hubbard
It's funny how life is.

We eagerly anticipate the big moments, the "important" things;

but it's the everyday things that we remember most,

and reveal the most about us.

A kind word,

A helping hand,

A shared laugh,

A treat from home.

All of these small moments

revealed your kind and gentle soul

and remain with us.

What a privilege it was to share the journey with you,

even for just a little while.
We are keeping David and his family in our thoughts and wish them comfort during this difficult time.