Each year around the end of winter into spring, people head to Austin, TX for conferences and festivals in film, interactive media, and music: South by Southwest, SXSW. Profiles just returned from the SXSW Interactive 2016 conference. Speakers were a range of professions and industries, breathing a life of perspectives.
Between the brisket, margaritas, and networking, Profiles was able to divide and conquer sessions (talk about time management), bringing back some new and some common takeaways. Fingers furouciously clacked the keyboards in notetaking during these must hear quotes from our nations brand leaders…
Key Takeaways from SXSW Interactive for Marketing and Creative Technology Recruitment
1. "You are not protected by the First Amendment on social media."– Wendy Stryker, Counsel
The #YoureFired@Work: Social Media and Employment Law session discussed clear workplace policies to protect companies from legal liability, while promoting effective use of new social media channels.
So basically, if you:
Badmouth your job
Damage the brand you work for
Damage the client you manage
Disclose confidential information
Execute inappropriate behavior
Your employer or potential employer has full rights to disciplinary actions. Now, you know! Employers are protected by Employment Laws, in which some are protected by State and other protected by Federal.
 
2. "Culture eats strategy for breakfast." – Kevin Plank, CEO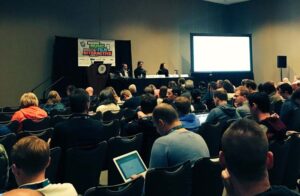 Today, company culture and people-centric business models are more important than ever (Oh hey, employer branding!). Reinforcing your brand and voice will be the best broken record to hear. After all, Kevin Plank plays his Under Armour brand video for his team at the beginning of every meeting. It is vital to empower employees to know THEIR mission and to bring their whole selves to work. If the people are happy, the business will grow.
3. "Outside of love and relationships, the worst thing you can f@!# up is a good hire." – Sarah Hall, Founder
Human resource professionals and hiring managers are missing the mark when it comes to the first steps in the hiring process: Planning. Talent acquisition continues to share the importance of hiring for tomorrow and finding the right fit for the skill. Within the session, New Model for Talent Development, execs from Red Bull and Harvey & Co. went into discussion on the importance of planning and attacking your hiring strategy. When companies realize their success is attributed to the performance of its people then talent acquisition and development strategies will become more critical than ever.
4. "Your business has to be inclusive." Dean Carter – VP of HR
Speakers from Lyft and Patagonia leadership teams explained the importance of people centric business models in the Brands Putting People First session. Companies have a hard time putting focus into the "good-guy" image, focusing more on making "bold business decisions," rather than providing the best possible products and services. Too often, "tough guys" are idolized and given credit for making these bold decisions. As a result, these actions are equated with being successful, and perhaps even smart and "right."
Top fave sessions of 2016 SXSW Interactive:
New Model for Talent Development
Red Bull – Bill Connors, Director of Marketing
Harvey & Co – Sarah Hall, Founder
Neuro Surgeon – Moran Cerf, Professor
Brands Putting People First
Lyft – Kira Wampler, CMO
Patagonia – Dean Carter, VP of HR
#YoureFired@Work: Social Media and Employment Law
Frankfurt, Kurnit Klein & Selz PC – Wendy Stryker, Counsel
How A Sports Giant is Now Tackling Your Health
Under Armour – Kevin Plank, CEO
I'm Tired of Social Media. What's Next?
Ruder Finn – Katy Kelley, SVP/Creative Culture & Global Marketing
About.com – Matthew Knell, VP of Social Media & Platform Partnerships
Simply Curated – Sarah Cooley, Founder & Creative Director
Verified Strategy – Tammy Gordon, Founder & Partner