This article contains updates made Sept. 2, 2020.
The hiring process can be stressful and overwhelming, particularly if you run a smaller operation and have little experience finding and securing new employees. Taking the right steps in the hiring process is essential because skipping or missing a step can result in a bad hiring decision. Bad hires are problematic for your company's bottom line, negatively impact staff morale, or harm your company's reputation.
When you've got creative staffing needs and are ready to start the search for your next hire, get started by following these 10 hiring process steps:
1. Outline the Position's Roles and Responsibilities
Define the position and your target candidate. Think about the skills and requirements a prospective candidate will need to be successful in the role and effectively perform. For example, if you are looking to fill web development or software engineer jobs, a list of requirements should contain JavaScript, HTML, CSS, MySQL, and so on.
With a clear idea in mind of what your organization needs, you can adequately begin your recruitment process.
2. Create & Distribute the Job Description
Once you have outlined the position and know the kind of candidate you are looking for you can write the job description. Use the information you outlined in step one to create a job title, job overview, and list of job responsibilities and requirements. A few things to keep in mind when on this step:
Optimize for search: weave relevant keywords into your title and description to increase your visibility in search engine results and on job boards.
Begin the description with a short introduction of the position available and follow it with two bulleted lists containing responsibilities and experience or education requirements.
Keep in mind social recruiting and mobile job searching. Crafting a well-optimized, concise job description will resonate better with mobile and social job seekers.
Once the job description is published to your website, promote it on your social media profiles, post to relevant job boards, and send to your personal contacts who are well connected in the same or a related field/industry.
3. Screen Resumes
When screening applications and resumes, you are looking for matches between your position's requirements and the candidates' prior experience. Depending on the size of your company, the application review and resume screening step can be handled by human resources teams and/ or aided by an applicant tracking system (ATS). Additionally, the key to the best match is not only matching skills to the job but determining the exact type of person for the position and company. When screening resumes and candidates, discussing the work environment is a top priority. A candidate might have the right skills, but might not excel in the work environment.
Finding yourself overwhelmed with steps one through three? No sweat. Get in touch with Profiles, and we will walk you through the entire process. From determining the need, crafting the job description, to screening resumes, we have got you covered and promise to present only the best candidates.
4. Distribute Pre-Interview Assessments
While many businesses forego this stage, pre-interview assessments can help narrow down your pool of prospective candidates and only move the most qualified few onto in-person interviews. Pre-interview assessments can take many forms, such as phone screens, online personality tests, or work-based assessments.
5. Prepare for Interviews
Just as you would expect a candidate to come prepared for an interview, you should be prepared to. Take time to examine the candidate's resume, check out their LinkedIn page, and see what more you can discover before they walk in the door. By doing this, you will develop a great list of questions that will help you learn as much as possible about the candidate in question. In a competitive, candidate-driven market, taking the time to prepare for your interview and focus on your time with the candidate speaks to the type of employee experience you provide.
Check out our interviewer's guide to virtual interviewing.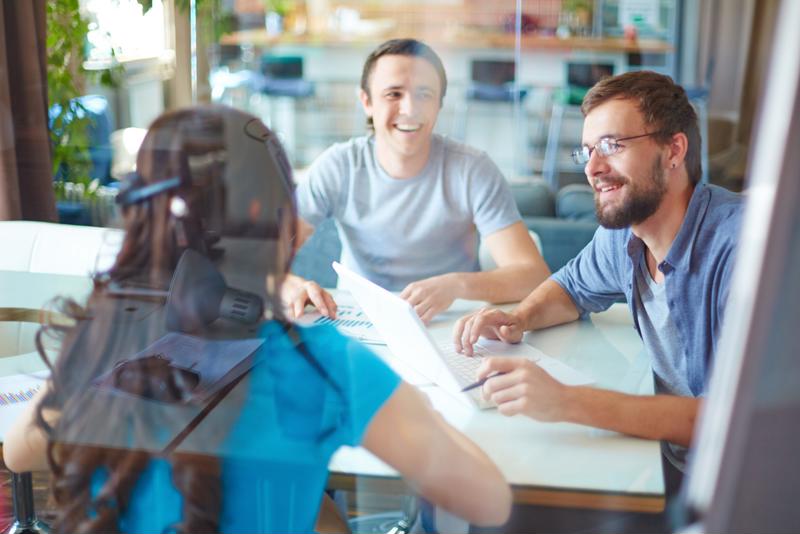 6. Conduct the Interview
The interview stage is arguably the most important, as it is an opportunity to truly get to know the person who could potentially join your team and move your business forward.
To provide the best interview experience, close your laptop, put your phone on silent, and honestly and openly talk with your candidates, which will lead to better interview assessments, better candidate experiences, and better offer acceptance.
Build a rapport by starting a light conversation that flows right into the interview. Use your strong list of questions from step five and try your best to avoid expected or stock questions. Instead, ask questions the candidates can speak to and provide examples. That way you gain a clearer sense of the candidate's experience and proficiencies, and better understand how they would react or respond in specific scenarios.
Consider bringing in a team member or two to join the interview. Multiple people will bring multiple questions and opinions to better assess the candidate. And will better assessment, comes a quicker decision.
7. Select the Right Candidate
The next step is to narrow the pool down further and select your top candidates. When selecting your final candidate(s), think about all of the steps leading up to this stage. How was their presentation on and offline? Does the candidate have all the necessary skills to perform well? How well did you communicate during the interview? Did you get along? Not only do you want to bring on the right candidate for the job, but you also want to bring on a good cultural fit. If there is more than one candidate in mind, the decision may require a second round of interviews.
8. Perform Background Checks
Background checks are incredibly important and should not be overlooked for the sake of saving time. A comprehensive background check can reveal red flags that prevent bad hiring decisions. The background check is there to ensure all things with the candidate, such as education, professional, and even criminal background, check out. Some employers even opt to carry out a drug test, although this is not necessarily required.
9. Make an offer
Once you have completed background checks, it is time to make the candidate an offer. This process can take time. Either you or your human resources team will be responsible for drawing up an employment contract and negotiating the salary. While many candidates will likely take the first offer, that is not always the case. Be prepared to negotiate and keep in mind how much more you are willing and able to offer.
10. Onboard the New Hire
An effective onboarding process is key to ensuring that your new employee adjusts well to their position and your organization. Prepare an onboarding agenda consisting of an office tour, shadow sessions, and maybe even an all-staff lunch to welcome the new employee. In the case of remote onboarding, new hire prep does not change much – only in the execution, using the appropriate resources and technology to properly welcome the new hire from a far.
Set aside meeting times for the new hire to connect with Human Resources to ensure all paperwork, benefits summation, and employee handbook presentation is complete. Your onboarding process is the first impression your new hire has of your company. Make it count!
Ready to find your next hire? Repeat these steps or considering outsourcing your recruiting or staffing needs.

Outsource Your New Employee Recruitment Process
You can outsource your recruitment process by contacting Profiles for your Marketing and Creative Technology hiring needs. We have the "know-how" to decipher your needs, craft the ideal job description, and find the best match for the position.