An organization is only as good as its staff, and if your team members are unengaged and unproductive, then chances are your company will suffer. Consequently, bolstering employee engagement has become a paramount concern for human resources teams and office managers in recent times. And yet, the question remains: How do you keep a workforce focused, productive and in-line without coming across as controlling and unlikable?
Thankfully, it is not impossible. There are a number of surefire ways to keep your employees motivated and productivity levels up. Below is a guide to five of the most effective techniques.
1. Offer Flexibility
Due to advancements in technology, it is often unnecessary for workers to be physically present in the office: Tech jobs, web designer jobs and digital marketing jobs are examples of positions that do not necessitate office time – just a laptop, a solid internet connection, and somewhere comfortable to sit. Given the new flexibility that remote technologies offer, an increasing number of workers expect senior leadership to offer them the freedom to work from home and create their own schedules. This is especially true of the millennial generation. Furthermore, employers are listening. According to a recent study from Polycom, up to 90 percent of American employers now offer remote working options.
And although it may seem counterproductive, allowing your staff more freedom to work from home and manage their own schedules is actually fantastic in terms of increasing their motivation and productivity. Studies have indicated that employees with more flexible hours are happier and more relaxed, which in turn is conducive to greater productivity.
2. Be Transparent
Make the goals and objectives of your company transparent. Few staff members enjoy working in the dark. Your workforce will likely be more productive if they have a clear understanding of why they are executing certain projects and the goals they are working toward. One good way to ensure that everyone is on the same page is to hold regular staff meetings involving all employees. Higher management should present at the meetings, updating everyone on the latest company developments.
"Make the goals and objectives of your company clear."
3. Provide Engaging Work
One huge obstacle to employee motivation and productivity is, to put it bluntly, boredom. If your workforce is bored with their workload, then they will likely be less productive. The key to avoiding this is to ensure that you hand out challenging projects that carry clear goals and objectives. Do not be afraid to hand out hard work either – challenge your workforce to meet difficult goals, and an increase in productivity will surely follow, Forbes explained. Of course, providing stimulating work to each and every employee at all times is not practical. Someone needs to do the data entry, for example. But you can mix it up for your workforce: If you notice that one employee has been involved with the same monotonous project for a couple of weeks, give him something new and exciting to do.
Recruiting creative talent can be tricky, but Profiles has more than enough experience in reaching these candidates. With Profiles in your corner, you can expect to onboard the right fit for your marketing or creative technology positions.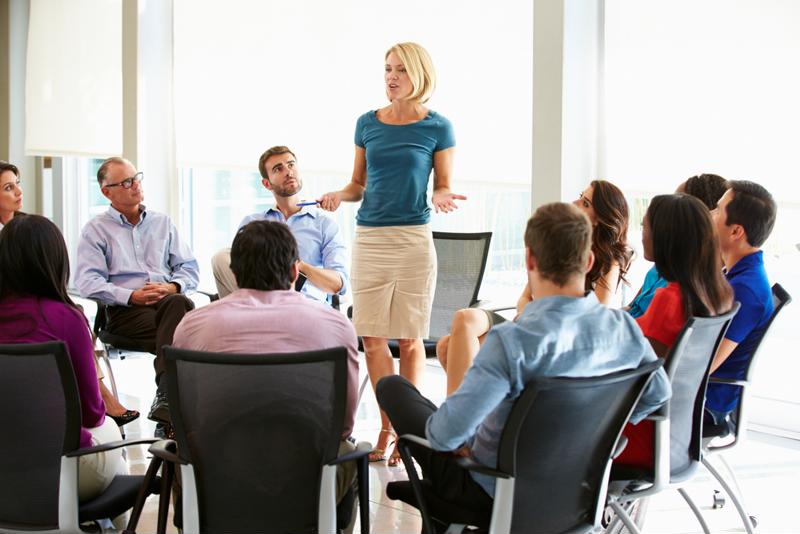 4. Allow Workers to Voice Complaints
Allowing your staff members to openly voice any complaints they may have with upper management, without fear of repercussion, can actually benefit motivation and productivity. After all, if a worker is unhappy, but internalizes that anger and resentment, it is likely that his productivity will suffer and the problem will go on unresolved. This strategy is not designed to encourage staff insubordination. Rather, its purpose is to improve communication between all staff members. A workforce that is more communicative with higher management tends to be happier and therefore more productive. The most effective way to implement this strategy is to hold frequent open forums, wherein senior leadership openly address staff complaints and answer questions.
5. Celebrate Creativity
Make it clear to your workforce that your company values creativity and innovation. Open a channel of communication through which employees can express ideas or make suggestions for company -wide improvement. A worker that is allowed to develop and articulate creative ideas openly will likely be happier and more productive. Another effective way to inspire creativity is to do away with office policies that may seem rigid and controlling, such as a business formal dress codes and set work hours, Monster stated.
Contact Profiles
Keeping employees engaged and productive is the key to company success. Employee engagement is the center of all business efforts these days. Engaging work, transparency, and flexibility are the absolute top ways to motivate your employees and increase productivity.
When it comes to marketing and creative technology positions, today's talent seek these motivators more than ever. To ensure you and your talent are match, contact Profiles for your marketing and creative hiring needs.