As digital marketing continues to advance, more candidates are optimizing their their resumes with these popular keywords to beat the ATS and within their LinkedIn profiles to boost their chances of getting selected for digital marketing jobs. However, not all digital marketing recruiters know of these words and can become easily overwhelmed. With that in mind, how can a digital marketing recruiter distinguish a talented candidate from one that is simply using a lot of buzzwords to make themselves seem more impressive?
"A successful digital marketing recruiter has the 'get it' factor or past experience in the industry."
If you are going to be an effective digital marketing recruiter who can see through a candidate's bluff, it is important to be up to date with a modern marketer's vernacular and understand what their key terms and acronyms mean. A successful digital marketing recruiter has the "get it" factor or past experience in the industry. They can leverage industry knowledge and subject matter expertise to relate to the job seeker and hiring manager in order to build a trusting relationship. Additionally, having a sound understanding not only builds confidence in your recruitment efforts, but always creates time efficiencies as you will know what resumes are worth picking up the phone to conduct a prescreen for.
Today's most popular digital marketing recruitment acronyms and definitions:
CRO: Conversion rate optimization is a growing role within Enterprise marketing departments. While businesses want to drive users to their site, they must be mindful about what must happen next – conversion. Conversion is a means to profitability. These conversions can be measured in subscription rates, form completions, video plays, contact us inquiries, updating existing user profile information, product purchases, etc. According to a 2015 report from Econsultancy, approximately 98 percent believed that CRO had some type of beneficial impact on their marketing strategy. CROs are used to getting a user to make some sort of conversion on your site. These conversions be something as simple as entering an email address or choosing to buy something on the site. Essentially, conversion is the final step in the digital marketing process and a huge part to the success of growing lead generation performance. If a candidate boasts about this, ask about their CRO techniques. Find out what, where and how they lifted conversion rates and how that impacted the overall marketing or business goals.
CRM: Customer Relationship Marketing. This acronym can easily be read as Customer Relationship Management to the majority of readers, especially those with experience in Sales. In fact, they are very relatable to each other so understanding both would be in one's best interest to hold valuable conversations with your digital marketing audience. Explained in the words of Polly Brady, Marketing Director at a Digital Marketing Recruitment Agency, Profiles, "The management side is a means to collect and organize existing and prospect client information which is often done in a database (Ex: Salesforce). The marketing side is taking action and engaging with these contacts in a highly targeted, segmented approach which provides a personalized experience through the content that is delivered at just the right timing. The success measurement would be the growing amount of brand loyal customers, repeat business, and growing business profits." Gain an understanding if the job seeker has experience in marketing automation or on-site personalization's. Ask how they researched, formulated, and implemented their CRM strategy and what results have come from it.
SEO: Search engine optimization, better known as SEO, are methods used to gain visibility on a search engines list of search results with the end goal to gain more relevant site traffic. The most commonly used search engines are Google and Bing. These methods include optimizing and creating a keyword universe, URL structures, page titles, meta titles and descriptions, page load times, internal links, back links, local directories, and more. An understanding of analytics is a must in order to gauge what keywords and site pages have gained visibility, improved rankings, drawn site visits, reduced bounce rates, and optimized time on site. SEO is a collaborative effort among many marketing roles from marketing strategists, marketing managers, copywriters, designers, and developers. Whether the candidate is looking for digital marketing jobs in content creation or in strategy, it is important that they know how to explain this concept.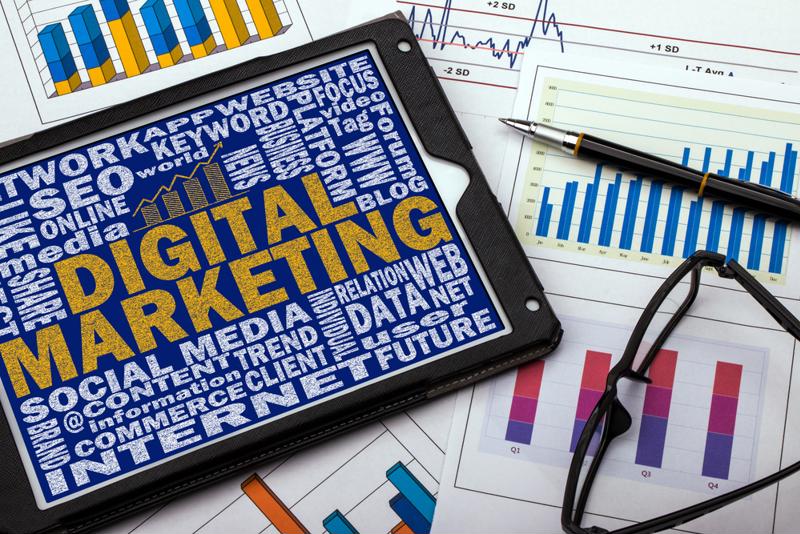 PPC: Pay-per-click, or PPC, is a form of paid advertising in which you pay each time a user clicks on your ad. Commonly known in search marketing as a method that companies will use to gain first page search rankings fast. "Think of it as a "pay to play" mentality. Operating much like an auction, the marketing strategy is to bid on relevant keywords and entice the audience to click your ad over the others based on your position or luring ad copy," shares Polly Brady. To continually optimize performance one must continuously measure the return on the invest at that starts with the cost per click, or CPC all the way down the funnel to CTR, click through rates, and conversion rates. If a candidate mentions their familiarity with this method, ask them about numbers – how did their PPC strategy evolve into revenue for the business?
SERP: A Search Engine Results Page is a list of website results in response to a search engine query. Commonly Google or Bing. This is the list of results mentioned above in which search experts are work to gain first page visibility. The results are typically divided among organic listings and paid advertisements.
RSS: Real simple syndication, or RSS, is a method that allows users to subscribe to content. Every time new content is developed or updated, the user will get a notification. However, they can only get this notification if they have an RSS Reader. Two common readers are Feedly and FeedReader.