If you asked Elizabeth J. where she would be at this point in her career a year ago, she would have never guessed it would be working for a remarkable company and genuine happiness for her position…all with the help of Profiles.
Elizabeth currently works as a contractor at one of Profiles' coveted clients in the global hospitality industry. Her position of Marketing Specialist resides within the corporate loyalty programs. A day in the life of Elizabeth includes managing the B2B corporate relationships, offers, promotions, and marketing collateral for the brand. A spotlight project Elizabeth spearheads is an accelerated program to help corporate clients reach the most exclusive status and perks.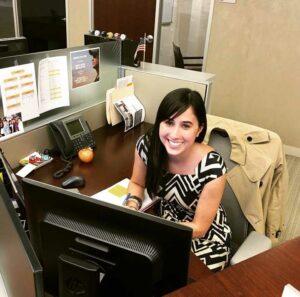 Her story is a must read.
Elizabeth was referred to Profiles by a friend. At first, she was skeptical about working with staffing agencies, but decided to take a chance on Profiles and was paired with one of Profiles finest, Senior Talent Acquisition Manager, Nancy DiSciullo. "We wanted Elizabeth to feel comfortable," Nancy shared. "If after exploring the opportunity she felt it was not the right fit for her, then that was OK. But to go in and explore, there is nothing to lose."
Elizabeth applied for the Marketing Specialist position through the Profiles website, despite feeling intimidated by the responsibilities and requirements, but embraced the opportunity to work for a company and international brand of great size and notoriety. Elizabeth was interested in expanding her marketing experience, with her existing background in government relations and communications, but was unsure how her skills would translate. Nancy to the rescue! Elizabeth received a call from Nancy who coached her to understand the requirements and expectations of the position, company culture, and how her skills were transferable. "We walked through how to create stories and how to mirror what [the company] was looking for was, in fact, what she had done before," Nancy explained. "It was not about a 'cookie cutter' resume, it was about understanding the role responsibilities, her previous experience and making the connection – and of course, articulating that to the company!" With Nancy's guidance, Elizabeth was able to fully understand that she truly had the qualifying experience. "Nancy was my cheerleader throughout the whole thing. She wanted me to get the job as much as I wanted the job," Elizabeth shared. In just 48 hours, the company concluded Elizabeth was the perfect match, quickly extending the offer, in which she accepted.  "I even cried when I got the job. I would not have found this job if it were not for Profiles."
Fast forward six months to present time, we sat down to see if Elizabeth still loves her Marketing position. With her bubbly personality, she openly shares the role has evolved into something so much more than she imagined. With continued support from her managers, she has really made the position into something she is proud of. Residing in the area, Elizabeth reflected back to her memories of driving by one of her buildings, and even stopping for Sunday brunch. Now, it is a place where she regularly attends company happy hours.
"I would not have found this job if it were not for Profiles."
This hospitality brand has a strong internal culture and cares deeply for employee satisfaction and work-life balance. In support of this initiative, they launched an internal recognition program, "Catch Me at My Best," to applaud each other for great work. Elizabeth had given the award to a fellow co-worker.  "We are all on the same team," Elizabeth states.  Lying in bed one night, Elizabeth was checking her email from her international peers. Receiving emails after hours is not out of the ordinary, considering the teams she works with are stationed all over the world. The email reads, "You've Been Caught!" She was being recognized, directly by her boss. Elizabeth describes the immediate feeling as "that feel-good feeling" followed by reassurance and motivation.  She continues by sharing how hard it is to find a company to work for that really cares for their employees and wants you  to enjoy coming to work each and every day.
"The hard work does not go overlooked…I love what I do, where I work, and who I work with. I am so thankful. I never want to leave. I'm in a workplace dream I never want to wake up from."
– Elizabeth J, Profiles Consultant, Marketing Specialist
"I could not be happier for Elizabeth! In a very short time, she has made significant contributions to the company and her team. I feel confident this position will afford her the ability to grow in her marketing career."
– Nancy DiSciullo, Profiles Senior Talent Acquisition Manager