Making online transactions possible, implementing website marketing strategies, and overseeing the people that make it all happen – just another day in the life of an eCommerce marketing manager.
What Does an eCommerce Marketing Manager Do?
Ecommerce marketing managers spearhead the strategies that make online transactions possible. They are responsible for organizing and developing website marketing plans, then executing on plans while training and leading a team of marketing executives. If you are interested in eCommerce marketing jobs, check out our current job listings here. If you still need to know more about what this role entails, keep reading!
Strategy
The process begins with detailed research of the company and its products to narrow down the essential facts necessary for effective marketing. With this insight, eCommerce marketing managers define company objectives and determine the online applications that can help achieve them. From there, they develop strategic marketing plans to promote their companies' products and services to online customers. To remain relevant in an ever-changing digital marketplace, eCommerce marketing managers must stay abreast of changes in the online marketing environment and make necessary adjustments to their strategies.
Execution
Once the plan is in place, eCommerce marketing managers work with web developers to make changes and updates to their companies' websites. They are also responsible for ensuring all online transactions follow government regulations and meet company-wide goals. As they execute their website marketing plans, eCommerce managers are expected to monitor performance and make changes based on market research.
Training and oversight
Ecommerce marketing managers are generally involved with interviewing, recruiting, and training new marketing executives. This position will supervise the executives once they are trained and allocate assignments to them. Most eCommerce marketing managers will also oversee vendor relationships relevant to the website.
What Skills Should an eCommerce Marketing Manager Have?
Essentials
Education: Most eCommerce marketing managers have a bachelor's degree in communication, marketing, business, or another related field.
Experience: This position typically requires at least five years of professional experience. Some companies look for one to three of those years to be in a supervisory role.
Through this experience, the most desirable candidates will display expert knowledge in the following areas:
Marketing strategy.
Affiliate marketing.
SEM and SEO concepts and strategies.
Online campaign management.
Market research and analysis.
Team leadership.
Recruitment and training.
Soft Skills
Excellent written and verbal communication: This is a big deal for anyone in marketing who is responsible for creating and presenting strategies.
Adaptability: The digital world changes every day. The best eCommerce marketing managers take these changes in stride and update their marketing plans with expert flair.
Strong team player: Along with supervising other members of the marketing department, eCommerce managers have to work with internal and external parties to be successful.
Keep learning about coveted eCommerce job titles and functions within the industry!
Interview Questions for eCommerce Marketing Manager Jobs
How big is the eCommerce business you are currently responsible for?
How do you develop eCommerce budgets with corresponding key performance indicators?
What are your personal methodologies to successfully deliver on eCommerce KPIs?
What do you think today's focus on user-generated content means for SEO?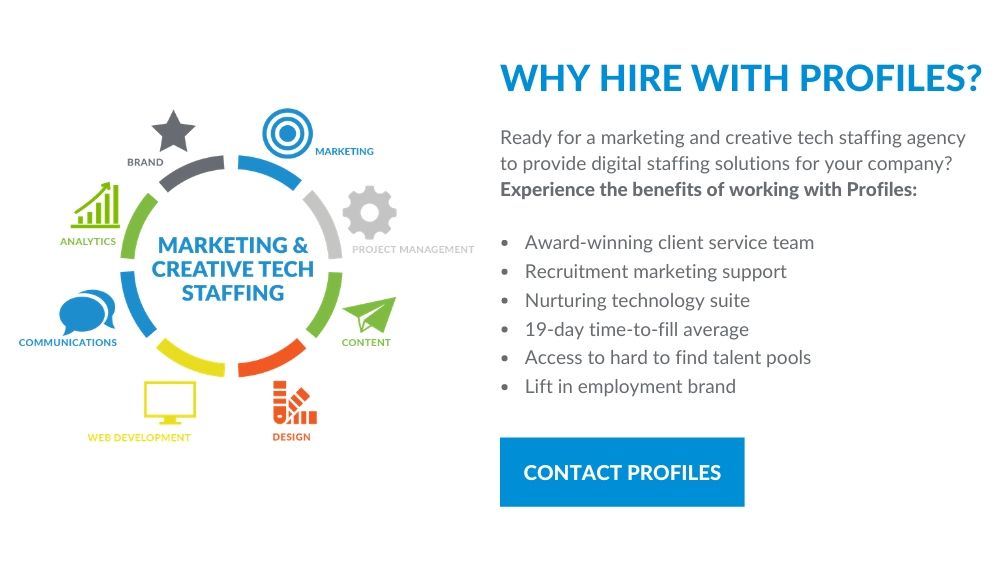 Profiles eCommerce Marketing Manager Recruitment
If you need the expertise of an eCommerce marketing manager on your team or you want to fill the position, contact Profiles to get connected with the industry's top marketing talent.