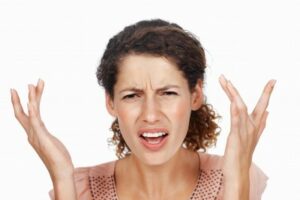 The greatest thing about being a graphic design recruiter in the Baltimore, MD and Washington, DC metro area is that you help creative professionals find user experience design jobs. But another important aspect is that we consult both freelance and full-time creative's on their careers. For example, there's absolutely no point in staying in a job if you are miserable.
So how do you know when it's time to go?
Here is a countdown of the Top 10 signs that you're at your breaking point.
10. You are miserable in the drive into work in the morning.
I've had this feeling before, and it's the worst. You actually dread getting up in the morning and every day on the way to work you say to yourself "is this the day I'm going to crack?"
9. You've lost your work mojo.
When you're no longer motivated to do good work, it means you don't care. When you don't care, it's time to move on. If you find yourself spending more time on Facebook, Twitter and Pinterest than on your projects, look for something new to hold your interest.
8. You can do your job with your eyes closed.
When work becomes so repetitive that you can do it in your sleep, it means you're no longer challenged. You're bored!
7. You lose your inside voice.
When you start telling people what you really think, you're now bitter. No one likes a Debbie Downer at the office.
6. You can't see any upward mobility.
Your job should challenge you, and it's important to be constantly learning and growing. When you can no longer see what your next upward move will be, this is why people say it's a "dead end job"; it's time to throw in the towel.
5. You work all the time, over-time, with zero appreciation and zero compensation.
(Think Peter from "Office Space")

4. You've had a bad performance.
Everyone makes mistakes. However, if you're continually not excelling at your job, it's time to see what else is out there. Maybe you'll find a job that better fits your specific skills, interests and expertise.
3. You keep thinking – if someone says "that" one more time, I'm going to beat them with a stapler.
Ok, this is maybe a tad much. But if you think every word out of every colleague's mouth is irksome, it's time to surround yourself with the right people. The ideal work team should be collaborative, supportive and energized. If your team is falling flat, it's time to find a new one.
2. You're constantly getting overlooked for promotions or more visible projects.
Maybe you're awesome at your job, but no one is giving you the chance to prove it. Move somewhere where you can take more ownership of your work, or work on a couple of freelance jobs to boost your professional portfolio.
1. You aren't appreciated.
The Bottom Line: You may not hear kudos and compliments every day, but everyone deserves to have their work valued. If you feel taken advantage of, it's time to give me a call! No one should ever feel "stuck" in a dead-end or miserable job; we can help.
About Profiles
Profiles is a unique staffing firm specializing in Marketing employment, Creative, and Web & IT jobs. Since 1998, we have served the needs of our Clients and Talent by matching the best candidates with the best companies in the Mid-Atlantic region.
---

Author Name – Meryl Ratzman
Title – Account Manager
Location – Baltimore, MD
Twitter – @merylratzman
Byline – Meryl has been recruiting for a year with Profiles and has 8+ years in the marketing and creative space. When she's not recruiting and networking with interactive peeps, she's eating gummy candy, listening to new indie rock bands or watching bad reality TV.