It's time we talk about the elephant in the room. On June 20, 2017, Google launched itself into the job search arena with Google for Jobs.
Google for Jobs was created to ease the job search process. Google CEO, Sundar Pichai, recapped at the I/O Developer Conference in May that most U.S. employers now face talent shortages and struggle to fill job positions. Similarly, job seekers are having trouble finding job openings due to poor classification of online job posts. No big deal for the search engine. The goal of Google for Jobs is to better connect employers with both active and passive job seekers to increase the efficiency of matching the right candidate with the right job.
What Fuels Google for Jobs Listings?
Well, with a little help from friends, of course! Google is pulling job postings from websites such as Facebook, LinkedIn, Monster, CareerBuilder, and Glassdoor, to name a few. Companies working and partnering with Google for Jobs believe that this will stimulate traffic to their websites by showing up at the top of SERPs. While it might seem like Google is diving head first into an already established industry, it doesn't intend to compete with online job boards. Nick Zakrasek, Google for Job Product Manager , stated that the company "wants to do what we do best: search."
One company that won't be partnering with Google is Indeed. Being a leader in the online job search industry, Indeed already has a plethora of traffic from organic searches. Nevertheless, Google is focusing on how search results for jobs are organized and delivered, which could disrupt business for Indeed.
What is
Google for Jobs?
Let's say you search "jobs in Baltimore" or "marketing jobs" in you search search query – Google will now populate its own job board, with an interface similar to Google Map listings. These results are job postings scraped from public job boards across the web.
How is this different than Indeed or Glassdoor?
A one stop search. Be honest, where are you starting your search? If you're like most people, you're starting with a Google search, even if you end up on a bunch of different job boards.  The benefit of a Google for Jobs search query is that Google's machine learning algorithm is sifting through and organizing job posts, as well as removing all duplicates. So, rather than having to visit multiple job boards and continuously seeing the same posts, Google is doing all the organizing and sifting for you, ultimately making your job search and user experience as efficient as possible.
To further narrow down your search, you can apply filters to your search, such as location, qualifications, and skill set.  Filters applicable include company industry, city/state, date posted, employment type (full-time, part-time, internships, etc.), and title. And even from there, you have options within each filter, building out your search. You also have the ability to save queries and set up alerts. From there, Google will send email notifications when a new job within your search is live.
Additionally, each job description is accompanied with user generated reviews of the hiring company from relevant job sites such as Glassdoor, Indeed, and Careerbliss.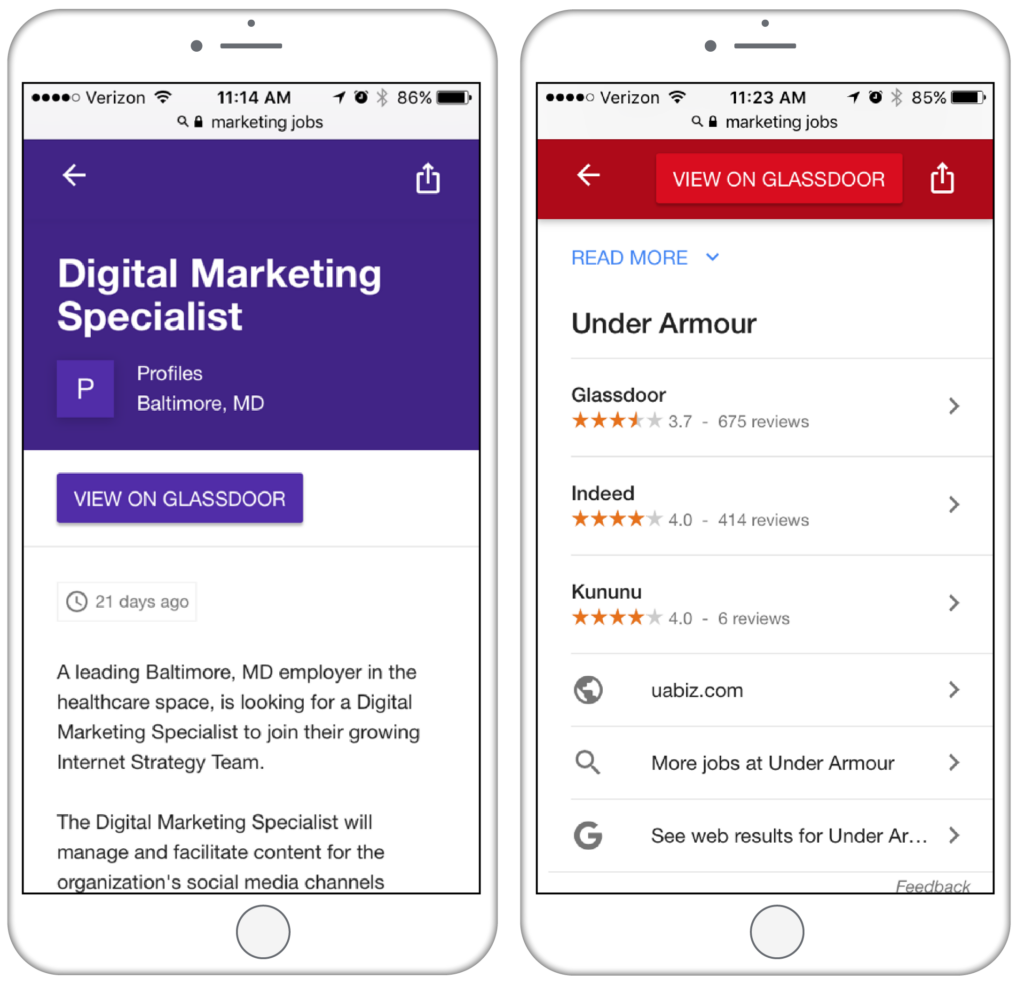 You can't apply to jobs straight from Google for Jobs…yet. Pichai would like to give job seekers the ability to directly apply and submit resumes from Google for Jobs without being sent to a third party site.
Do You Agree with Google for Jobs?
Google has done its research, while staying true to Google. The search engine has gracefully entered this sector without being a real threat to other renowned job boards, acting as a partner. Job searching can end up being a full-time endeavor itself. If you're looking for an all-up approach to your job search, Google for Jobs is for you.