New developments in technology affect careers across the board, but one silo especially impacted by these changes is marketing – specifically in the digital space. Google is constantly updating its algorithms, social media is continuously evolving and email marketing best practices change as new features are introduced. These frequent changes make the industry appealing to professionals looking for a career change, as they can build expertise by studying all of the new developments. Job seekers can learn the ropes and earn certifications and receive training on skills like coding, data analysis, and social media, which can help them stand out from other candidates.
When working in digital marketing jobs, you must be flexible and stay up to date with the latest industry news – but that is not all. There are many technical and functional skills that are beneficial, as well. Here are the digital marketing skills you need to be successful and stand out from the competition.
1. HTML and CSS
To be proficient in all aspects of coding is not completely necessary, but having a basic understanding of HTML and CSS can work very well in your favor. As an email marketer, you could make changes to a current template or perhaps build off current templates to form a new publication, putting your HTML and CSS skills to use. Additionally, communications with your web development team will be much more productive if you have the knowledge and understanding of the lingo involved in making changes and updates to your website.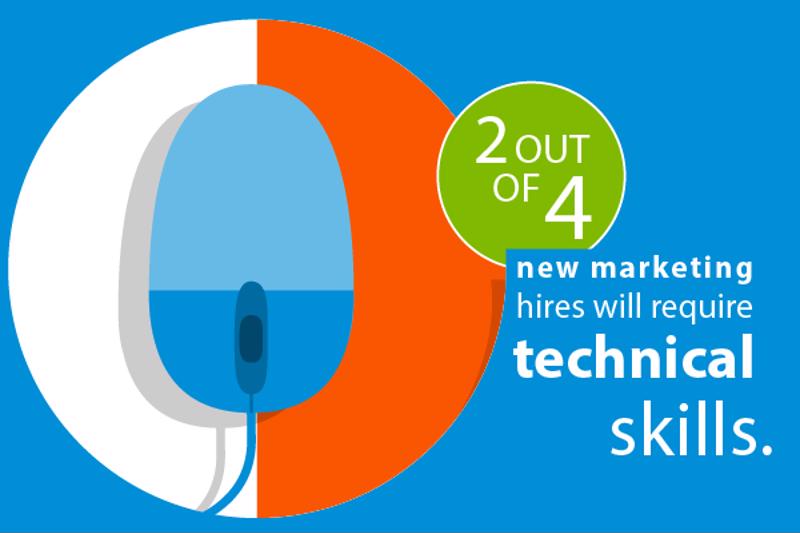 2. Technical
Online form​-building software Formstack reported that 2 in 4 new marketing hires will require technical skills. While extensive multimedia skills aren't necessarily essential to digital marketing professionals, a basic understanding of video production and interactive content can be useful. This is due to the growing popularity of these forms of media that have taken over the Internet. Take online courses and tutorials in either of these technical areas so you're equipped with skills that could come in handy when you're in the digital space.
3. Data analysis
Speaking of data, it is important for digital marketers to be able to read and analyze data to formulate sound conclusions from it. Formstack reported on research that predicted a downfall of 1.5 million data-savvy managers by 2018. Make sure you're not a part of that number. Take every opportunity you get to learn more about analytics, and get certified in online analysis tools like Google Analytics. When you're able to look at a pile of data and make sense of it, you can more successfully guide your digital marketing initiatives to success.
"Be sure to have a strong social media presence."
4. Social media
Facebook, Twitter, Instagram and Pinterest are more than just fun sites to check when you are bored. Social media skills can also be advantageous when pursuing a digital marketing job. Google is not the only major corporation that constantly updates its algorithm – Facebook does as well. The more insight you have into the updates, the greater advantage you have in marketing your brand's services and products.
It is helpful to put these skills on your resume, but it is even better to have a strong social media presence of your own to show as evidence of your extensive knowledge. Be sure to grow your following on each site and keep your accounts professional so you are able to use them as examples in an interview.
5. Soft skills
The above-mentioned skills are important for marketers in digital marketing jobs, but keeping those communications skills and your professional etiquette sharp will be what makes your job that much easier. Nail down your communication and time management skills to better accomplish your day-to-day interactions and assignments no matter which type of marketing – or industry – you work in.
Contract and Direct Hire job openings are updated daily. View all job listings here!