*This post and infographic were updated on 08/12/2022.
Time to Read: 6 mins
Writing an Engaging and Optimized Job Description Summary:
A well-written job description is the first step to attracting quality candidates.
Detailed information on ideal formatting and optimization techniques.
How you can utilize keywords to rank higher in job search results.
Overview of Profiles' process and how our team carefully crafts and monitors job descriptions to deliver results.
A position is open at your company. The search for the right candidate is on. Where do you begin?
Searching for and hiring the right candidate all starts with the job description.  As one of the first things on the list, the job description is crafted to attract the right audience and accurately detail the responsibilities of the position. In addition, the job description should be written and optimized to render in search results. With widespread remote opportunities and online job postings, the majority of job seekers use search engines and smartphones to start the job search process, making optimization crucial.
Keep reading for how to write a job description that covers all of these bases and leads you to the perfect candidate: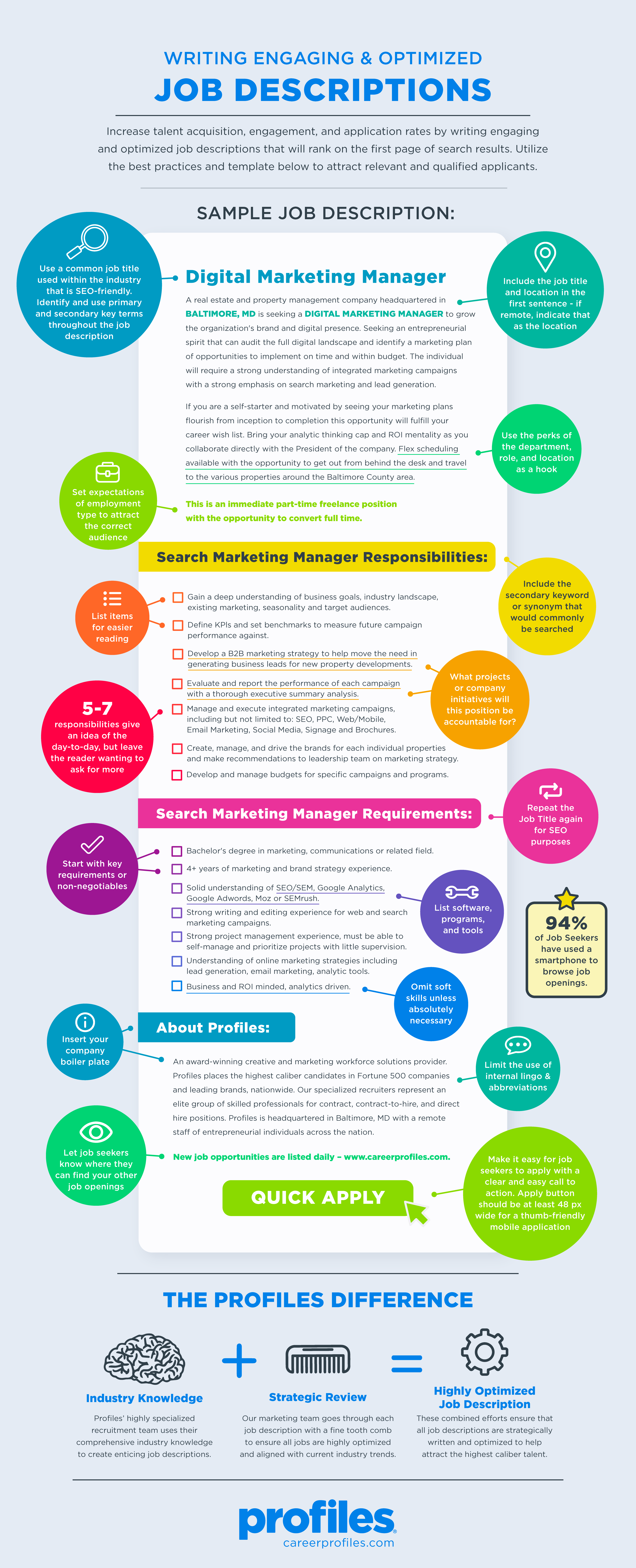 Download a PDF Version
Use Keywords Appropriately
In the case of a job description, the job title acts as the primary keyword, followed by any alternate job titles acting as secondary keywords. In the example above, the digital marketing position uses "Digital Marketing Manager" as the primary keyword title and based on the needs of the description, "Search Marketing Manager" is the accompanying secondary keyword job title. Using keywords frequently throughout the description increases the probability of the description appearing higher in search results, in turn gaining more job seeking viewers.
List Out Responsibilities and Requirements
Lists make it easy to read and understand dense material at a glance.
The same goes for job responsibilities and requirements, lists are better for readability.
Keep the list short – typically between five to seven bullets.
Too short of a list runs the risk of inviting an influx of unqualified applicants.
Too long of a list could lose the reader's focus and drive candidates away.
Optimize Your Job Description for Mobile Viewing
More than half of Fortune 500 companies have mobile-responsive career sites. Growing numbers of applicants are turning to their smartphones to do their job searching. In fact, 94 percent of job seekers use their smartphones to browse job openings. If you want to attract the most qualified, tech savvy individuals for your company, optimize your job descriptions to accommodate mobile job seekers as well. Be sure to have responsive career web pages, and include large, mobile-friendly calls to action with functional interaction.  The call to action button should be thumb friendly on mobile devices, at least 48 pixels wide.
The Profiles Difference
There is no doubt that incorporating these formatting and optimization suggestions into your job descriptions can yield great results. However, Profiles goes one step further to attract the highest caliber talent to fill your hiring needs. 
Profiles' internal teams work together in tandem to create highly optimized job descriptions for a wide range of creative, marketing, and digital positions. Our recruitment team is highly specialized in a wide range of jobs and use their comprehensive industry knowledge to create enticing job descriptions from the start. Then, our marketing team goes through each job description with a fine tooth comb, ensuring all job descriptions are highly optimized and aligned with current industry trends.
From job order to placement, Profiles strategically monitors and enhances each and every job description every step of the way until your hiring needs are met.