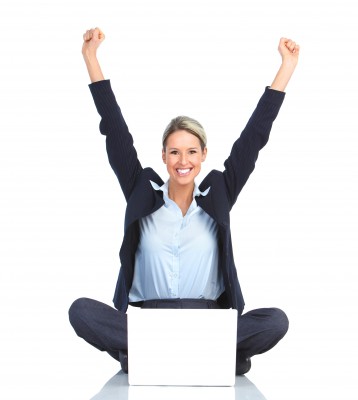 I have always been a person that performs best when my day is laid out ahead of time. I am a "list person," I LOVE the feeling of crossing things off my list. Creating a list of tasks for that day and then crossing them off my list once completed gives me a sense of satisfaction and productivity.  Although lists get me through my day checking off every item does not always mean I have had an extraordinary day. To achieve that, I focus on what did I learn that day, how was I creative, and how did I contribute to my own personal and professional goals?
10 Tips to Have an Extraordinary Day at Work
Here I present to you my own list of how to have an EXTRAORDINARY day. This list consists of 10 things I try to do every work day. There are days when I do not get them all completed, but the days that I do, are great ones!
1. Read something related to your industry.  My "go-tos" are LinkedIN Today, Mashable, Baltimore Business Journal or American Staffing Association.
2. Share something that you just learned with someone else.  Being both a student and a teacher feels great and opens up the conversation for additional knowledge sharing in the future.
3. Check in with each of my team members to see if they need anything from me.  It  is so easy for us to get caught up in our days and our own work, so rather than going back and forth via email, it's a good idea to get up and have a conversation about what your teammates are working on and how we can partner together.
4. Review your goals.  For me this is sometimes my professional goals. Have I hit my weekly metrics? How is my overall performance year-to-date?  Other days I think about how my work today can directly impact what I'm aiming for outside of work.
5. Post something of value on Social Media.  LinkedIn & Twitter are great for recruiting and getting industry news out. So every day I post to get new jobs, new articles and new content out there.
6. Take a break! Sometimes for me this is putting a totally cheesy song and getting my entire office dancing with me. Others it's walking down to the harbor for a cup of coffee.  Or a 30-minute spin class at lunch.  Whatever it is, you need to get away from your desk.
7. Plan.  This is the part in the day where I get to make tomorrow's list!
8. Think.   Joe Gambino, the principal of my company gave me this book a couple of years ago called "The Greatness Guide" by Robin Sharma. One of the chapters that truly resonated with me was called "Make time to think".  Too many people, including myself, spend the day solely on doing and not thinking.  How can we come up with new ideas, grow and challenge ourselves if we don't think? Think about it!
9. SPEAK UP!!  Did someone in your office really impress you? TELL THEM! Have an idea? Share it! Someone rub you the wrong way? Tell them (professionally of course).
10. Smile and laugh.  Yes, this is corny but hopefully you're at your current job because you love what you do and enjoy the people who you're working with.  So why not have a great time while doing it (not loving where you're working,  here at Profiles we can help you find the right job in the digital space)
Could this list be much longer, of course it can, but then I wouldn't be getting them all done! I try to do these things consistently and it's proven to work in my career.  And if you have tips of your own to add to the EXTRAORDINARY work-day list, please share them with me @merylratzman.
About Profiles
Profiles is a unique staffing firm specializing in Marketing employment, Creative, and Web & IT jobs. Since 1998, we have served the needs of our Clients and Talent by matching the best candidates with the best companies in the Mid-Atlantic region: Baltimore, MD, Washington, DC, Philadelphia, PA and Richmond, VA.
---

Author Name – Meryl Ratzman
Title – Account Manager
Location – Baltimore, MD
Twitter – @merylratzman
Byline – Meryl has been recruiting for a year with Profiles and has 8+ years in the marketing and creative space. When she's not recruiting and networking with interactive peeps, she's eating gummy candy, listening to new indie rock bands or watching bad reality TV.