Time to read: 8 minutes 
COVID-19 Creative and Marketing Job Market Report
 Summary
Are companies and HR 

personnel

 still moving forward with hiring plans?

 

Are job seekers still searching for jobs?

 

How will budget cuts and layoffs

a

ffect the 

market?

 

How secure do

employees feel in their current positions?

 

What is expected in a universally remote work 

environment?

 
COVID-19 presented itself in 2019 and continues into 2020, a year that was primed for excellence in terms of the economic climate and the job market. The Bureau of Labor Statistics reported a 3.5 percent unemployment rate in February 2020, which is on the lower side of a healthy range (3-4.5%).
Profiles, a creative and marketing staffing and consulting agency, conducted a national survey on March 25, 2020. The survey questions surrounded the before and after-effects of the COVID-19 pandemic events on job seekers and companies. Participating candidates and hiring managers answered anonymously to the job market and business economic questions as it pertains to creative, marketing, and digital employment.
A COVID-19 Job Market
Hiring
March 2020, when the workforce was directed to work remotely as a precaution to flatten the curve and reduce the spread of COVID-19, it was not apparent the impact the virus would have on the whole economy. As more information was reported and tests were made available, the impact continued to hit the workforce, some industries harder than others. More than half of hiring managers responded that before the news to work remotely they had open positions to hire within creative, marketing, and digital positions.  After the instruction to work remotely, 66% of respondents are still moving forward with the hiring, interviewing, and onboarding process.
Profiles asked hiring managers questions around hiring in a universally remote workforce. US employers rated their comfortability a 7 out of 10 in terms of being equipped and comfortable to move forward with hiring and onboarding remote staff during this time of uncertainty and universal remote work.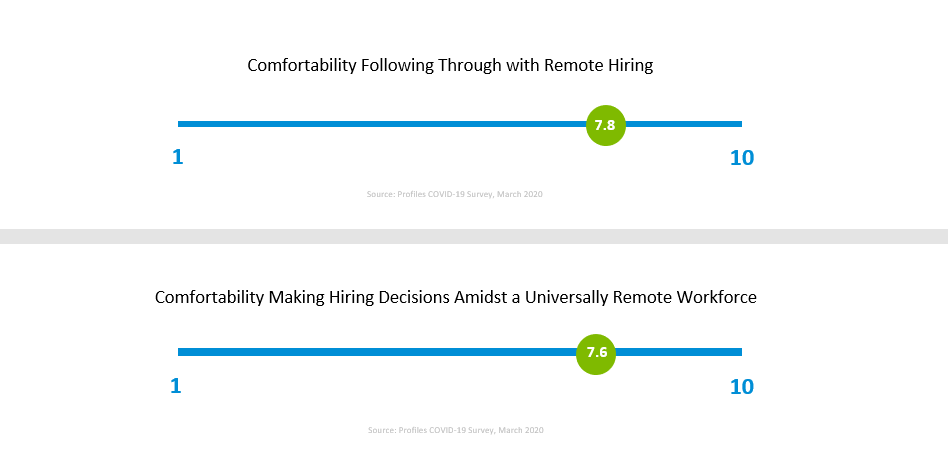 Demand in Digital Resources
In addition to preexisting hiring needs, new needs have risen within the digital employment space since the COVID-19 outbreak. Remote work and quarantines have resulted in a surge of online behavior, leading to CIOs and CMOs investing in digital. 67% of respondents share they are increasing resources and investments in digital. 83% of responders reported no change in their department's budget. In other words, without an increase in the budget, there is a shift in priority which will move digital spend and online resources to the top of the business initiatives. 
To help you best serve your clients, Profiles asked what employers are seeking from their vendor relationships at this time. 
Employers share their top needs from external vendors: 
Compassion.

Flexibility.

Transparency.

Realism.
Job Searching
On March 25, 2020, post COVID-19 news where furloughs and layoffs set in, creative and marketing professionals responded to share that 63% were employed and 37% were unemployed.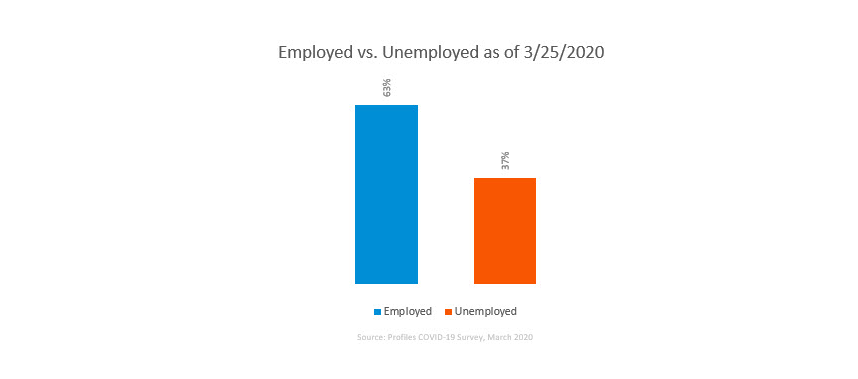 78% of creative and marketing professionals responded that they were actively job searching or open to new opportunities before the news of COVID-19. Of those job searching before COVID-19, 91% of that group is still open to new opportunities. This leaves 9% taking a conservative approach to sit tight until the job market shows a stronger sense of security. Of the 22% who were not job searching prior to COVID, 43% of these creative and marketing professionals are now actively searching and open to new opportunities. Overall, the number of active job seekers or those willing to take a new position decreased from 78% pre-COVID-19 to 76% post-COVID-19 news; there is not a shortage of talent.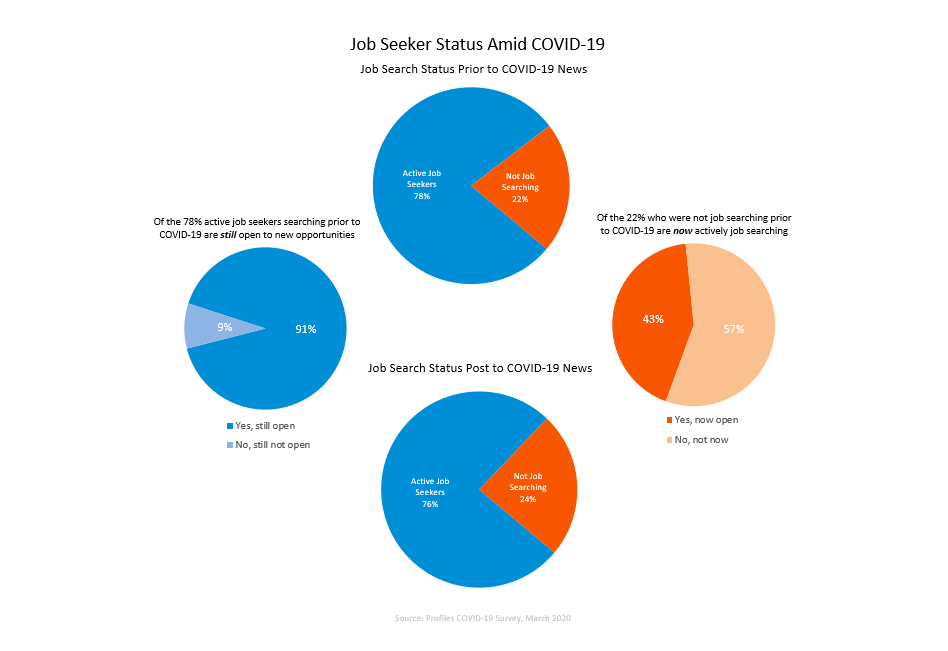 Job Security during COVID-19
Mid-March pins the beginning of the timeline. The workforce was sent home to work remotely and practice social distancing. That was the only real change until the dust settled. COVID-19 cases began to increase with testing, resulting in business closures of all kinds and drastically affecting the airline, travel, tourism, entertainment, and hospitality industries. Amid corporate layoffs, the national poll curated responses to understand what sense of job security a professional has in their current position. On March 25, 2020, 22% of creative and marketing professionals were confident and secure in their position, leaving the remaining 78% feeling insecure, uncertain, or out of work.
Employed responders were asked what industry they work within as well as the job function. Taking the data from the chart above, we looked at the employed responders to understand what industries are heavily employed against were the most concerns around job security lie. Then, we took the same idea and applied it to understand what job function was heavily employed against what job function has the most concern around job security.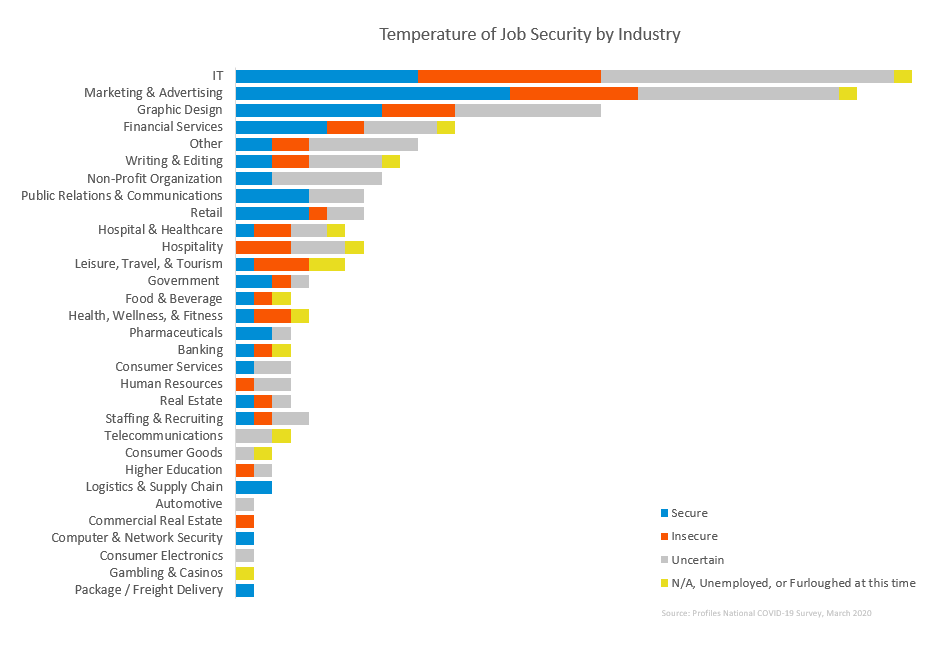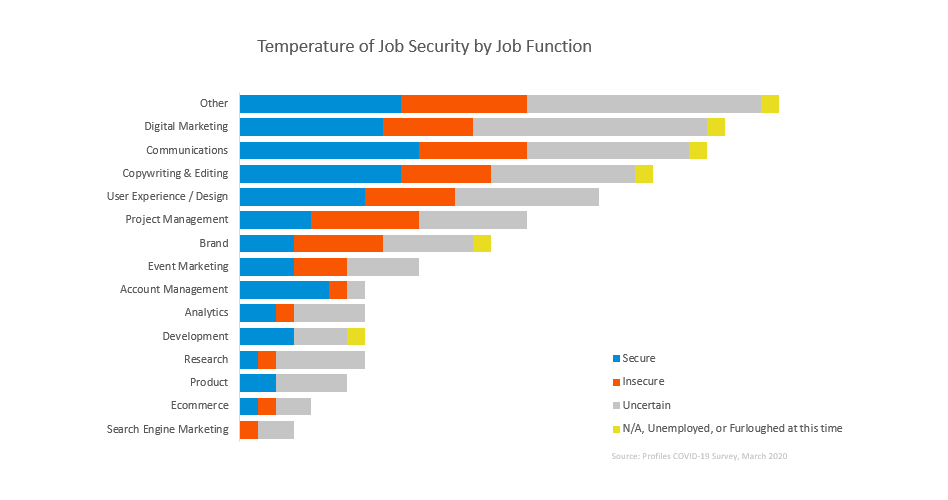 Top Employed Industries 
The top industries reported by our employed respondents were IT, Marketing & Advertising, Graphic Design, Writing & Editing and other, with 

Marketing & Advertising professionals feeling the most secure

.

 
Top Job Functions  
The job functions reported by our employed respondents (after Other) Digital Marketing, Communications, Copywriting & Editing, and UX Design, 

with those in Communications roles feeling the most secure.

 
Check out our article around Recession-Proof Industries to keep in mind for your job search.
Remote Workforce as a Result of COVID-19
The workforce is remote for the more foreseeable future until the spread of COVID-19 calms down. With 66% of hiring manager respondents still moving forward with hiring needs and interviews, it is clear companies are on board with remote work for the time being.  
What do employees expect from employers in the way of remote work support?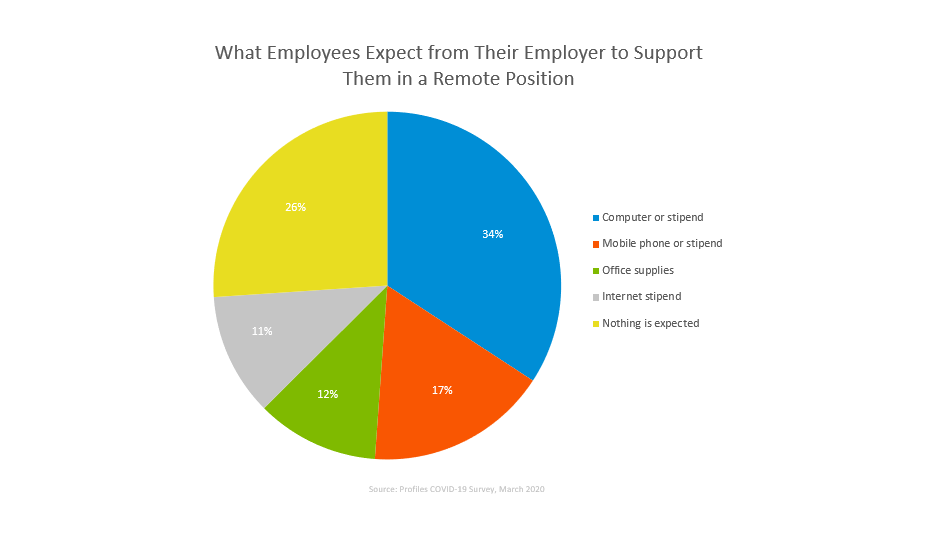 Employees expect a computer to be provided, if anything, which makes sense considering most companies provide computers to employees. Aside from computers, over one-fourth of responders do not expect much support from employers. This group showcases the ability to onboard and get to work remotely and immediately. 
Profiles COVID-19 Updates
Profiles continues to monitor the current business and economic climate. Stay updated through our Coronavirus Updates as we continue to content on hiring, job searches, working remotely, and other suitable content.